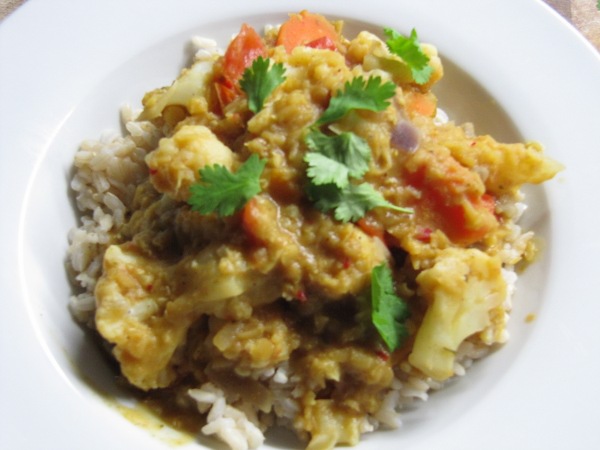 Curries, including this coconut curry, are super easy to make and almost impossible to mess up since everything goes into the same pot.  The most challenging part is getting the spices just right, which I have already done for you. However, my favorite thing about this red lentil curry recipe is that it transforms lentils and a head of cauliflower into a huge pot of creamy and delicious nourishment.
Lentils are a type of legume, or bean, and run in the same family as black beans, kidney beans, garbanzo beans, etc.  These highly nutritious legumes are relatively small in size but not in benefits.  Lentils provide us with fiber, molybdenum, folate, iron, protein, thiamine, and potassium.  Lentils are especially beneficial in protecting our heart, keeping our energy levels balanced and high, and maintaining a healthy digestive tract.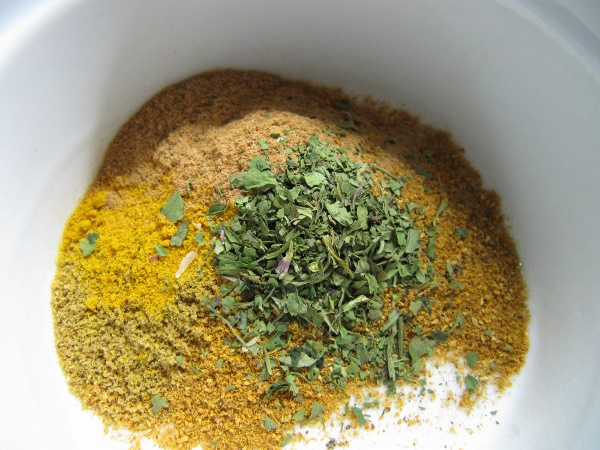 Another health benefit of this curry is due to turmeric, one of the key spices in this dish, which provides promising cancer-fighting and anti-inflammatory properties.  Chinese and Indian medical systems have long used turmeric to relieve inflammation, strengthen immune functions, and improve digestion.  Turmeric has also been used in Chinese and Indian medicine to treat a wide range of conditions such as menstrual cramps, ulcers, toothache, chest pain, and headaches.  Although science hasn't proven the connection between turmeric and the treatment of certain conditions there is promising research which suggests tumeric's ability to fight off cancer and inflammation.  Either way it can't hurt to try adding this powerful spice into your meals.
Recipe Note: Almost every curry powder is different.  The spices are most likely the same between brands but the amount of the different spices is going to vary.  I suggest you look at the container of curry powder you bought to see what the recommended serving amount would be.  For instance my container of curry powder had a curry recipe listed on the side and I used that amount in the curry recipe I was making.  If you are completely unsure start with 1 tablespoon and then add more later on depending on taste.  Curry powders most likely will contain turmeric, cinnamon, and cumin so you don't necessarily need to add extra in this recipe but I think adding the additional spices make for a much tastier dish.